New Year's Eve is just two days away! Are you going out to a fancy dinner? Or are you someone who likes to stay home and watch the festivities on TV?
My husband is working on New Year's Eve this year, so Olivia and I are going out to dinner for some mommy/daughter time! No matter what your plans are, it is so fun to get dressed up to celebrate the ending of the year. I love all things sequins, glitter and heels all year but especially on this day!
If you are like me and live on a tight budget, it can sometimes be disheartening when you are trying to find something pretty to wear for a special occasion. You want to look cute but you also don't want to break your budget! Trust me, I get it.
For this week's edition of Friday Finds, I have searched high and low for affordable and adorable dresses that you can wear on New Year's Eve! Pair these dresses with a gorgeous heel, soft waves and a red lip and you will be set. Each of these dresses are less than $50!
Strappy Y Back Sequin Mesh Dress:  How cute is this dress?? I love the color and the sequins make it the perfect dress for your NYE plans. For this look, keep your jewelry simple so the dress is the focal point! I would wear a strappy heel too! You can find this dress for $24.99 at Target.
Sequined Velour Dress: Another great option for NYE is this gorgeous velour dress from H&M! I don't know where you live but here in NJ, it is absolutely freezing. I love the long sleeves for this time of year and I adore the booties that the model in the picture is wearing! Find this beauty at H&M for $49.99.
Off The Shoulder Shift Dress: What could be better than a little black dress?? And one that is 50% off? SCORE! This adorable dress is perfect for NYE but can also be worn throughout the year. I love when I find a dress that is versatile! Dress this look up with some statement jewelry and a little clutch like the model is holding in the picture! Buy this at Macy's for $46.99!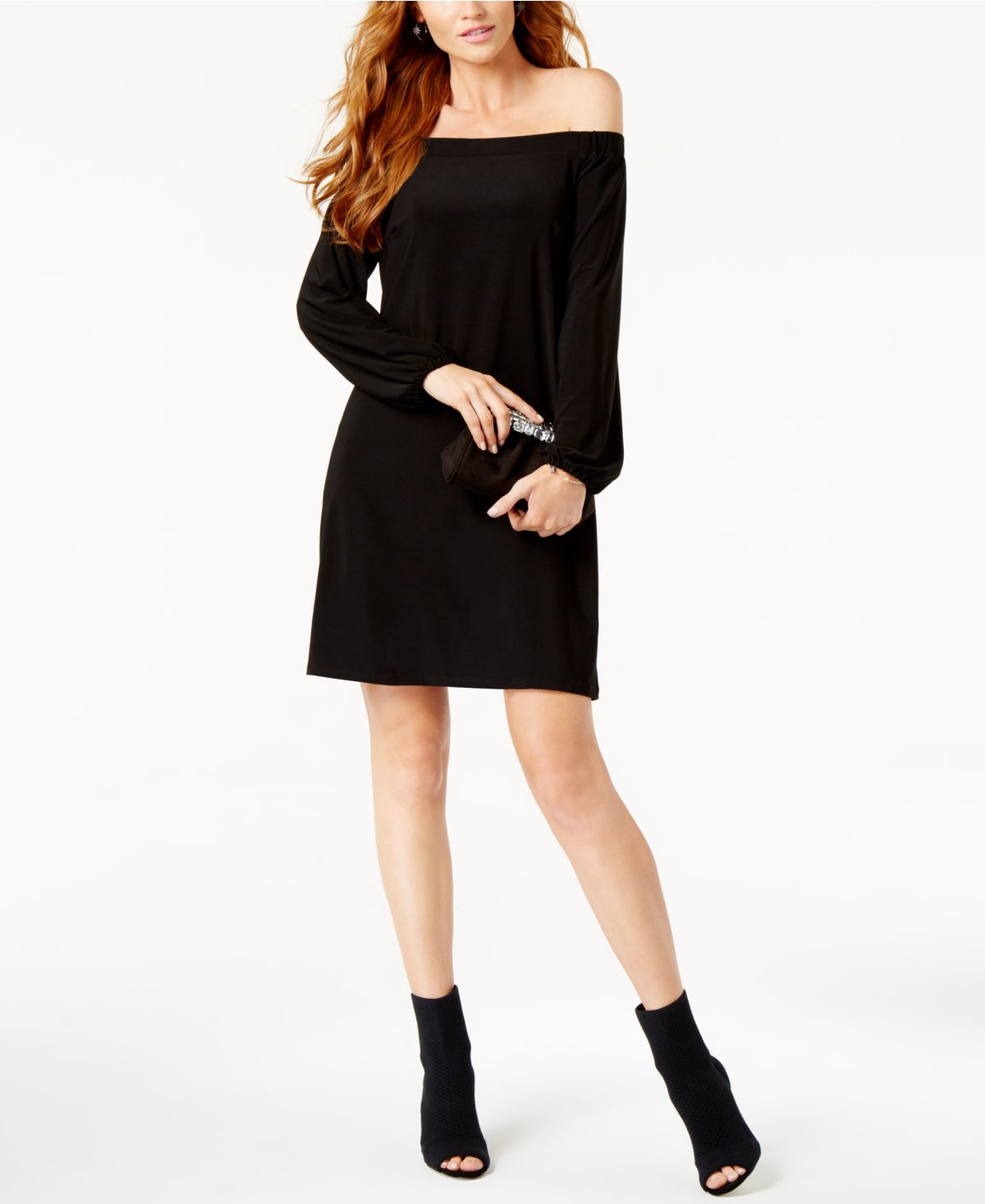 Sleeveless Ruffle Dress: Run. Don't walk. Don't jog. Run to your closest Limited store because they are having the most AMAZING sale right now! This adorable dress is only $19.80 right now, which is 80% off the original price! You can snag this dress in black, red or navy!
Something Fancy Dress: I want this dress! I love the details and how simple yet fabulous it is! I would definitely wear either a pair of chandelier earrings or a chunky necklace like shown in the picture. This is another dress that can be worn at other occasions and for different events! You can grab this gorgeous look for $43.99 at Hope's!
I truly hope that everyone has a beautiful New Year's Eve! I am so excited for everything that 2018 will hold! What are your plans for the evening? I would love to hear from you! Comment below or e-mail me at karen@karensincerely.com! XOXO